Academic Year 2023 – 24
Class 1 consists of Nursery and Reception pupils. This plan may be subject to change to allow our pupils to develop their own interests in line with the Early Years Foundation Stage ethos.
Nursery pupils attend on a part-time basis and planning and activities are differentiated taking into account maturity as well as learning needs.
Yearly Overview
(click on image to view)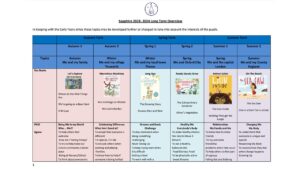 Bug Club
(click on image to view)