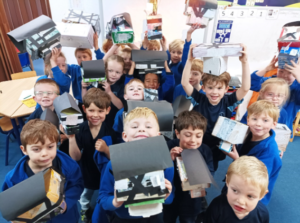 Last term, Class Two learnt about The Great Fire of London. The children thoroughly enjoyed this topic and loved learning about Thomas Farriner and his bakery. A fact that the whole class thought was hilarious was that Samuel Pepys buried his wine and cheese in a hole in his garden to save it from the fire.
During our Design and Technology lessons, Class Two learnt about Tudor houses we looked at what they looked like and what they were made from. After learning about this, Class Two designed and built their own Tudor houses made from cardboard and paint. 
The children's creativity shone through while making these houses! They should all be so proud of themselves.